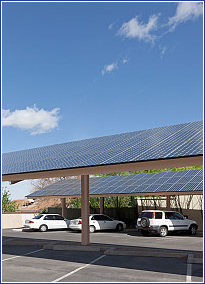 Southwest Solar Guys, Inc.™
was established to meet the growing need in the PV Solar Industry with qualified professional installers whose priorities are the
Client, Quality of Workmanship and Safety
.
Our professional team has over 30 years of diverse experience in the Construction, Electrical and Solar industries with a proven track record providing clients and organization with high-quality workmanship. Our extensive experience and knowledge extend from a wide variety of construction projects including the building of many types residential, commercial and military projects through out the USA.
Our team understands that in the Construction Industry you're reputation precedes you and you're only as good as your last project.
Southwest Solar Guys™ places our client relationships first and is proud to conduct our business based on five unwavering principles: Respect, Teamwork, Quality of Workmanship, Safety of our Employees and Integrity.
By placing importance on the attitude "treat the customer the way we would want to be treated", this allows us to put ourselves in their shoes. It is our objective to gain the deep trust of our clients and provide them with high-quality craftsmanship at competitive affordable prices.
A corporation is an aggregation of individuals, and its life is fully dependent on them. We strive to treat our employees with respect, while encouraging a workplace full of fun, enthusiasm and opportunity.
We're committed to providing the safest possible working environment for everyone involved in every project. On every install crew, there is a safety person (OSHA Competent) trained to recognize the hazards and exposures that are unique to the Solar Industry. This helps provide safe work-sites for both employees and the general public. The personal safety and health of each employee of Southwest Solar Guys™ is of great importance. The prevention of occupationally-induced injuries and illnesses is of such consequence that we give it precedence over operating productivity whenever necessary. To the greatest degree possible, our management and safety director provides all mechanical and physical facilities required for the personal safety and health of our employees. Southwest Solar Guys™ requires all persons on our job sites to conform to safety guidelines and practices.
Our Quality Control Plan (QCP) is designed to ensure the safe and proficient performance of every contract requirement, throughout every level of the organization. This is ensured by our Quality Control Manager (QCM) that is responsible for the Quality Control program, and has complete authority on all matters pertaining to compliance with the quality levels to ensure compliance with established industry trade practices, contract requirements and in accordance with all applicable regulatory codes.
1) Install crew leader thoroughly checks work using QC Checklists. Any differences found will be resolved and the punch list signed by the crew leader.
2) The QCM will inspect the work with crew leader punch list. Any differences found will be resolved, and the punch list signed off by QCM.
3) QCM will inspect the project with the Client and answer any question they have. Any differences found will be resolved, and the punch list signed off by QCM and Client. Only then will Southwest Solar Guys™ request final payment.